GLAMADOR Painless Wax Warmer Kit, Adjustable Temperature w/ Wax Beans 450g, 25 Wax Sticks, 5 Bowls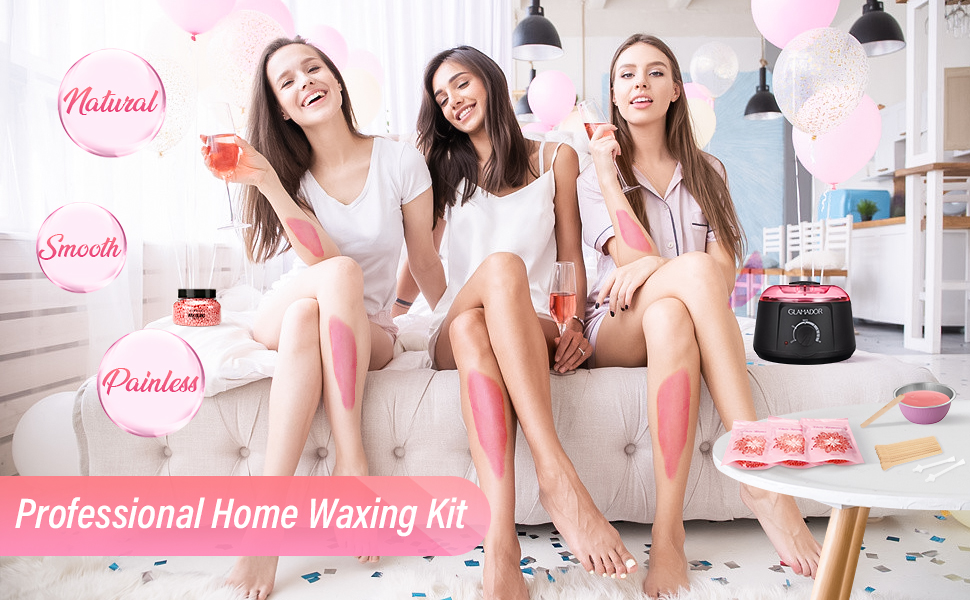 Easy to Use: Adjustable accurate temperatures from 55 to 140℃ allow you to choose. Put the wax beads into the wax machine, heat the wax to the flow state, using a spatula to stir the wax. Just heat the wax in the pot for 10-15 minutes and use the included wooden applicator to apply. Wax hardens by itself and you simply pull it off smoothly, without applying strips on top, for total body depilatory needs.
Professional Home Waxing Kit: Wax removal kit includes: home electric wax warmers heater 500cc (1 unit), 2 bags and 1 can wax beans,25 different body part wax applicator sticks. With the heat assistant material, it makes the wax to heat up faster and safer. Just need 10-15 mins, the beans is melted for your depilatory at home by yourself same as salon effect.
Multifunctional & Effective: Ideal hair removal waxing kits for men and women, home self-waxing or any waxing spa salon, for the whole body depilatory needs. It is quite compact and thus easy to carry, ideal for using at home or when traveling.
High-Quality Hard Wax Beans: Works on all areas of the body, including your face, arms, armpits, legs, bikini area, feet, eyebrows etc. Gentle for sensitive skin, and around 90% to 99% success rate without any side effects.
Specification:
Product Name: GLAMADOR Wax Warmer Kit
Capacity: 500cc
Adjustable temperature: 55-140 Celsius Degrees
Voltage: 110V US; 220V EU/UK
Power mode: AC
Power: 100W
Applicable wax materials: wax beans, wax blocks, wax, paraffin wax
INSTRUCTIONS:
1. Put wax into the warmer machine's pot.
2.Clockwise spin the knob to the maximum to set the heating temperature. It takes about 10-15mins for the wax to melt.
3.Once wax turn into liquid, set the temperature you want.
4.Place a small quantity on the inside of the wrist to test the temperature of the wax.
5.Apply a layer of wax to the area where hair removal is required with a spatula.
6.Wait 1-2mins till the wax become a film, then peel the wax film quickly against the direction of the hair growth.
7. Counterclockwise spin the knob to turn off the machine after use. To keep the wax dust-free, remember to cover the machine with the lid.
CAUTION:EXTREMELY HOT WAX MAY CAUSE BURNS
Package contains:
1 * wax warmer
3 * depilated wax beans (100g / bag)
1 * depilated wax beans (150g / can)
10 * wax stick (body)
10 * wax stick (facial)
5 * wax stick(nose)
5 * aluminum foil bowl