Luckyfine US Plug 7-in-1 Electric Hair Dryer/Curler/Straighter/Curling Iron/Hair Styler Tool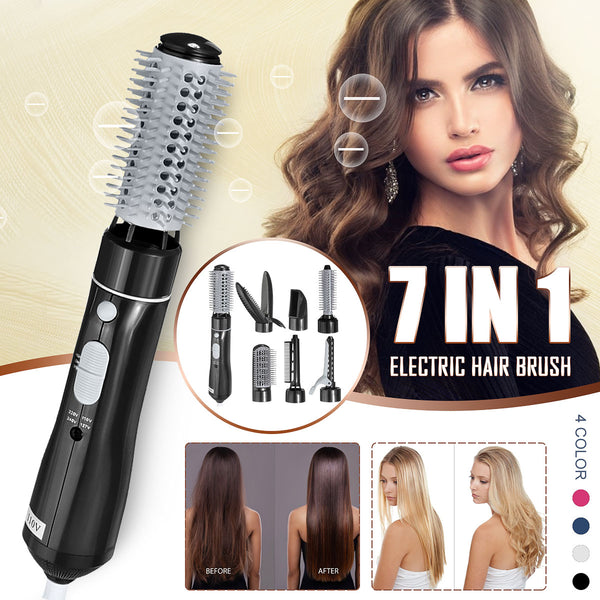 For straightening & curling, dry & wet hair.
This 7 in 1 brush can adapt to every type of curl, providing the right tension for perfect straightening.
The hot air styler lets you enhance your hair in various ways, with the same functions as a flat iron, curling iron, hairdryer, conical wand and round brush, it works on all types of hair.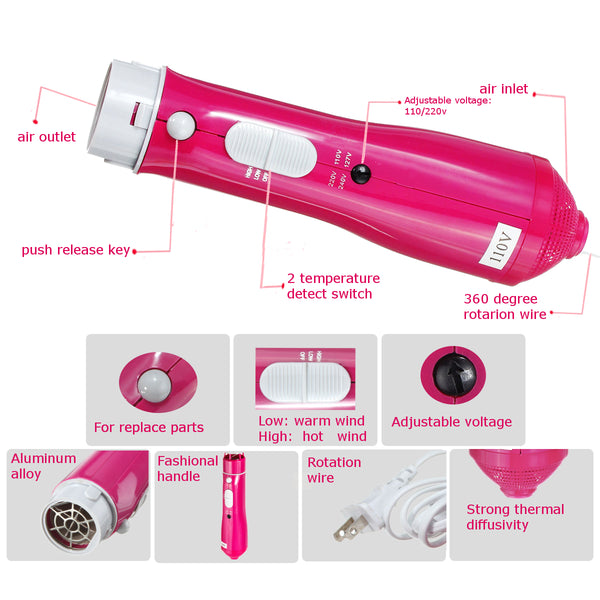 1. Concentrator Nozzle: Blow hot air to dry your hair, improve your hair styling
2. Big Hot Air Styler: Fit for combing different levels' curl hairs
3. Small Hot Air Styler: Fit for combing different levels' curl hairs
4. Hair Straightener: Fit for straightening the curling hair (Better effects if the hair is in half-dry condition)
5. Vent Brush (Hair Brush Combs): Anti-static curved vent barber salon hair brush hair styling brush, ideal for blow-drying short to mid-length hair longer bristles gives you maximum lift from the root area, diagonal ventilation for maximum air flow
6. Curling Wand (Perm Clip): Conical barrel shape for loose curls for easy styling, to create free-flowing curls, shaping an attractive hair styling
7. Bang Comb: Help to comb a special style for your bang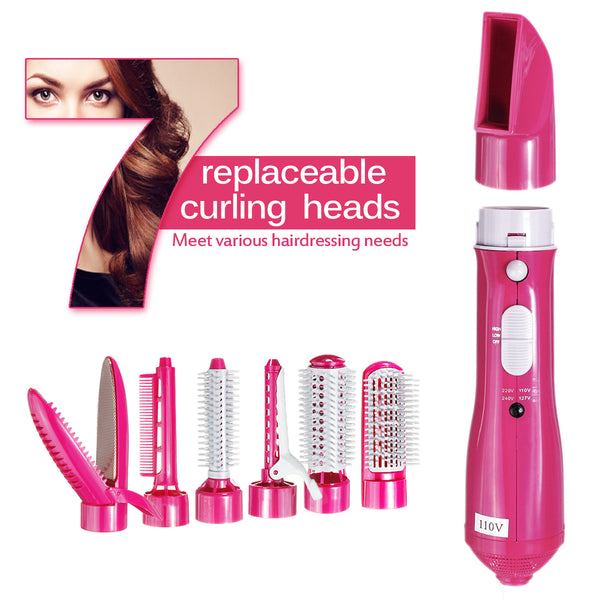 How to Use:
1. Do not use the brush on tangled/knotted/ backcombed hair it is not recommended for use on synthetic hair or hair extensions.
2. After washing your hair, dry and carefully untangle it using a detangling brush or comb.
3. Divide your hair into individual sections a few centimeter's wide and work on one section at a time, You can use hair clips to hold up the other sections of the hair out way of styling area.
4. Attach the desired brush head size to the body of the brush simply by pressing down.
Specification:
Power: 700W
Dual Voltage: AC 110V / 220V (Worldwide voltage supported, Interchangeable)
Frequency: 50-60Hz

Package Included:
1 x Main Machine
1 x Concentrator Nozzle
1 x Big Hot Air Styler
1 x Small Hot Air Styler
1 x Hair Straightener
1 x Vent Brush
1 x Curling Wand
1 x Bang Comb
1 x User Manual