Upgraded 4D Technique Bath Pillow, Comfort Luxury Bathtub Cushion w/ 5 Suction Cups, More Breathable

Beautiful & Durable - The neutral simple color goes well with modern home design and fits any decor. And it fits in the spa bath, the spa center, swimming pool and other types of tubs. Polyester fiber is lightweight, comfortable and responsive for a perfect fit. The built-in structure of the pillow will not deform easily or become stiff over time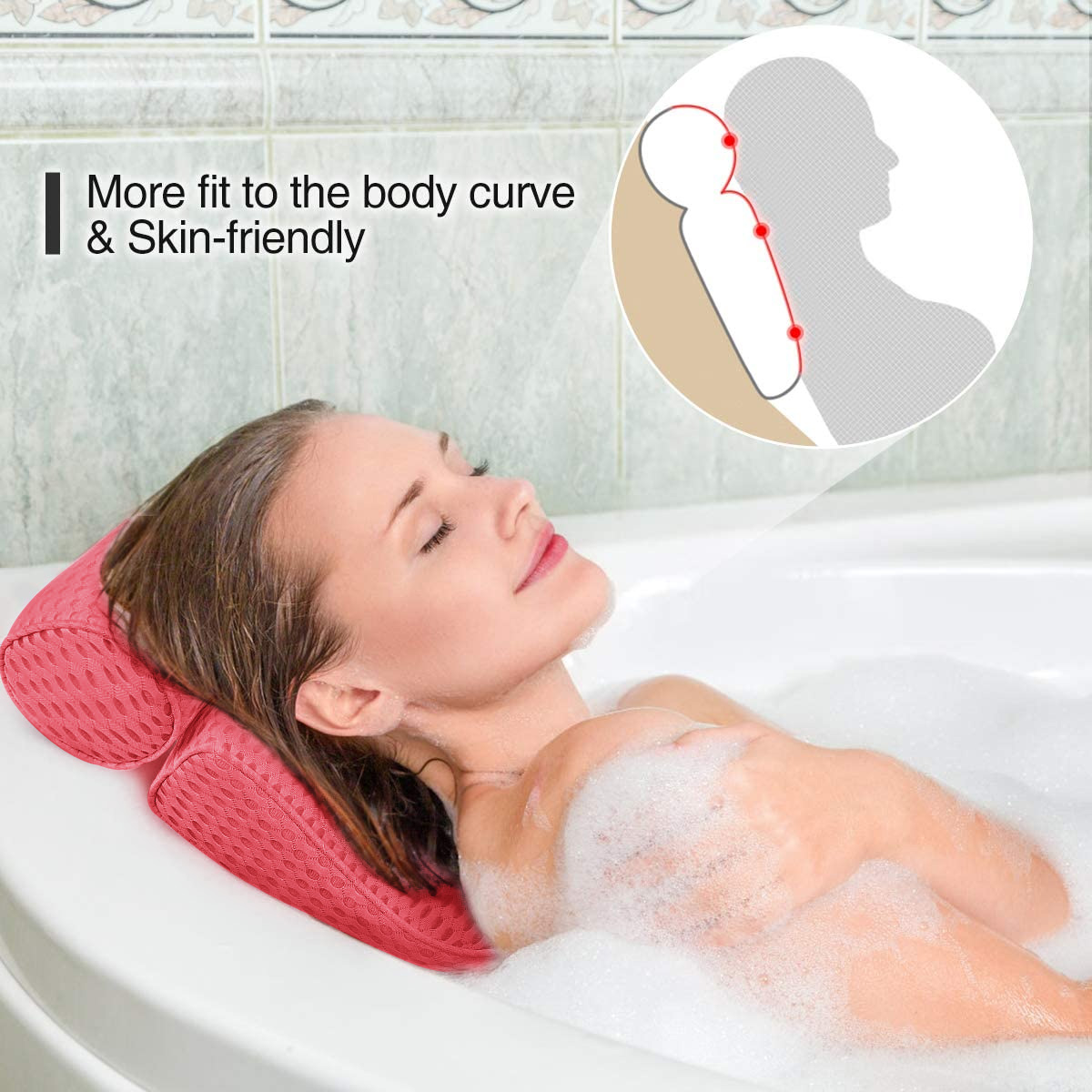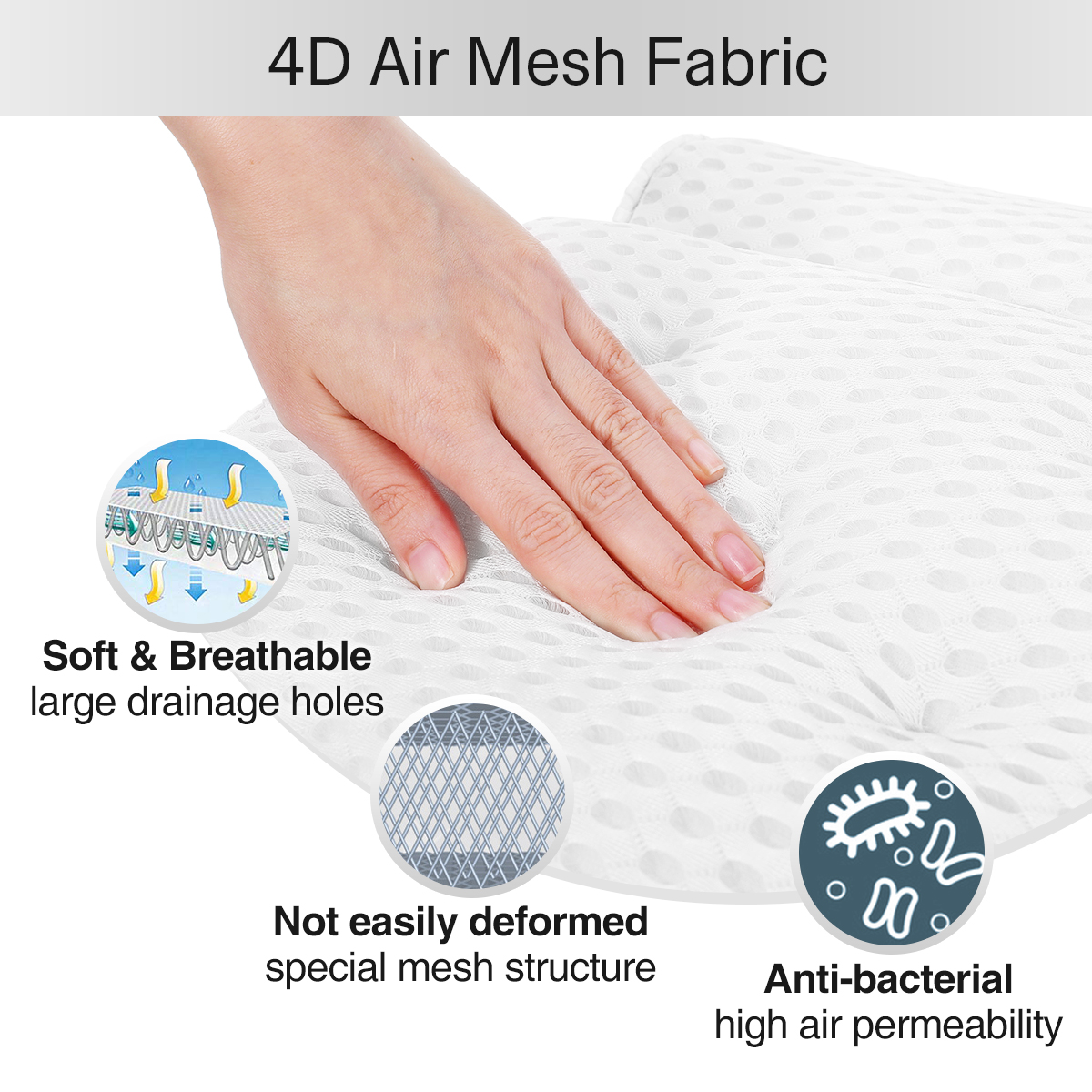 Upgraded Technique, Helps To Reduce Stress - The bath neck support pillow is carefully designed to provide the highest level of comfort. Improved surface for an even softer reclining experience - Thanks to the 4D Air Mesh Technique, now the tub cushion is more enjoyable! So just sit back and relax! Thanks to the ergonomic shape of the bath cushion, your neck is optimally supported. Relaxed reading while bathing is no longer a problem. To relax the tense and tired muscles after a long day.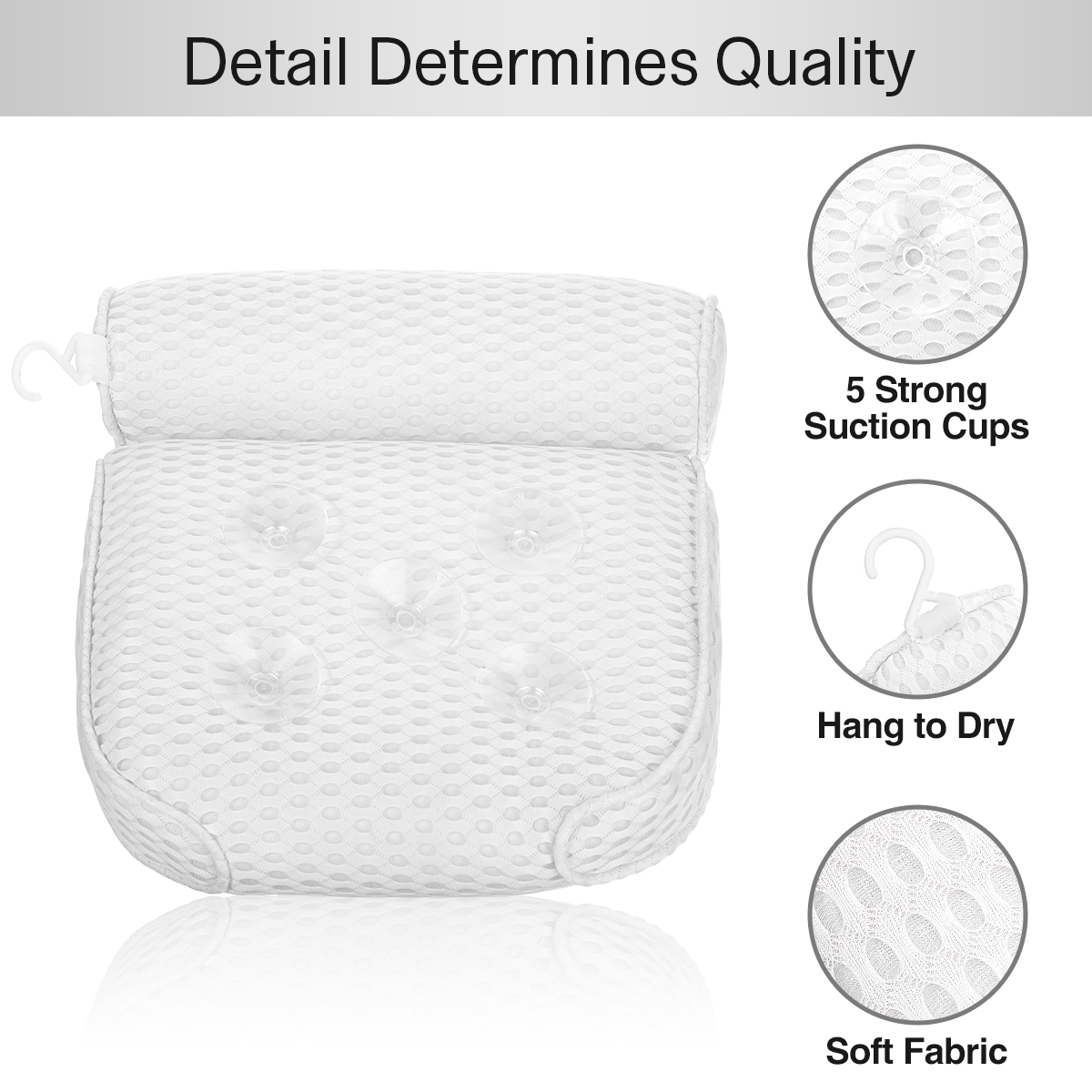 Non-slip - Bath Cushions with 5 suction cups, 5 strong suction cups hold the pillow especially tight. And it is removable, that it can be positioned for different body sizes. This ensures that the cushion stays in the position you want. Our cushion will stick to the tub without slipping while using it as a backrest and headrest. Supports your head and neck area so you can enjoy a restful and relaxing bath.
Easy To Clean -
Thanks to specially woven materials, our premium bath cushions are more breathable, quicker to dry. The coarse mesh 4D interior structure lets water and airflow through quickly, making the cushion more breathable, and easier to dry. Machine wash is not allowed, but you can rinse off the soap scraps easily underwater. With the hanger, you can quickly hang it up in the bathroom.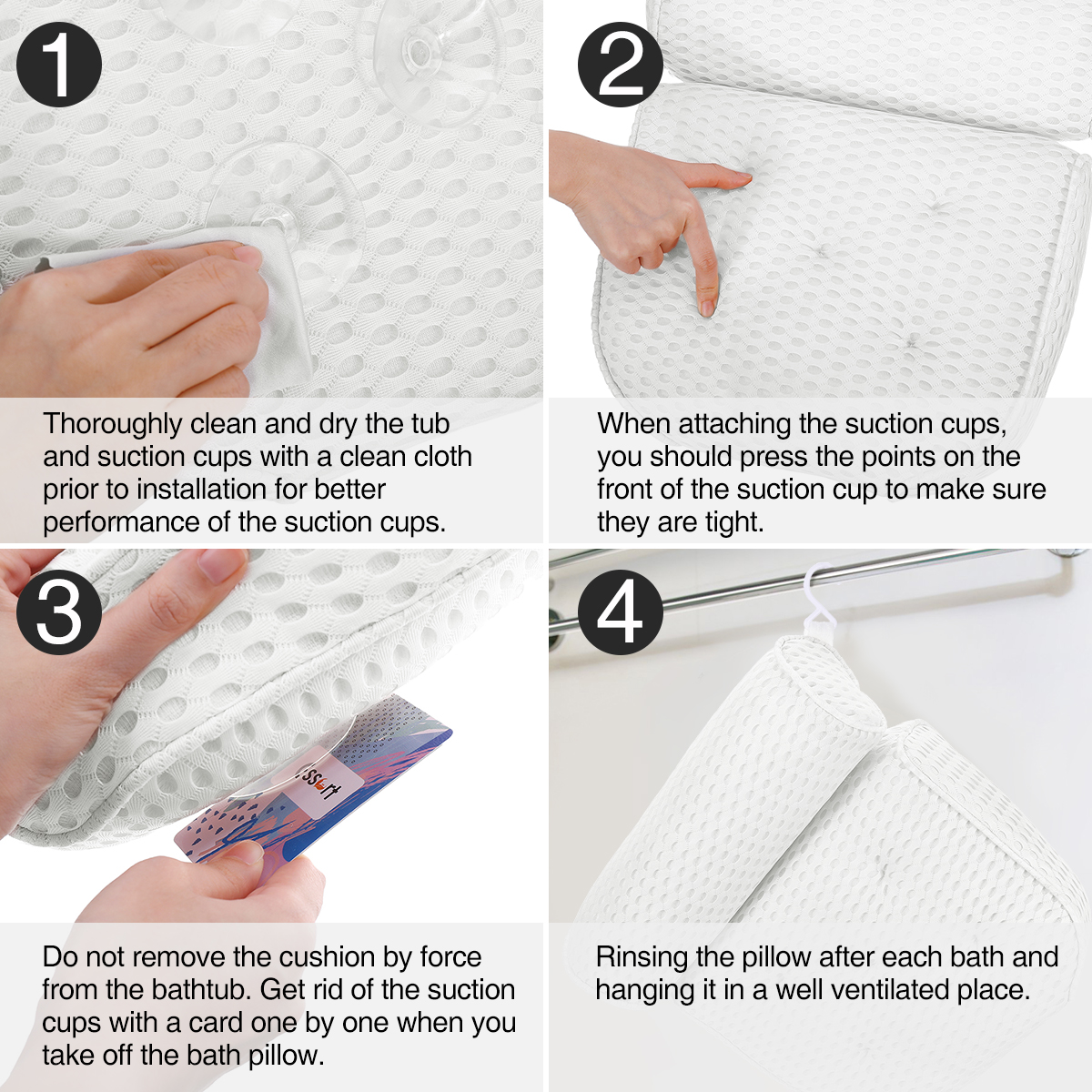 Notes 
1. Clean and dry the tub thoroughly with a clean cloth prior to installation for better performance of the suction cups.
2. When attaching the suction cups, you should press the dots on the front of the suction cup to make sure they are tight.
3. Please keep hairpins, necklaces, bracelets, razors, scissors, nail clippers, and other sharp objects away from the pillow.
4. No machine washing. Do not tumble dry. We strongly recommend rinsing the pillow after each bath and hanging it in a well-ventilated place.
5. Do not remove the cushion by force from the bathtub, gently pull the suction cups with your fingers to allow air to escape.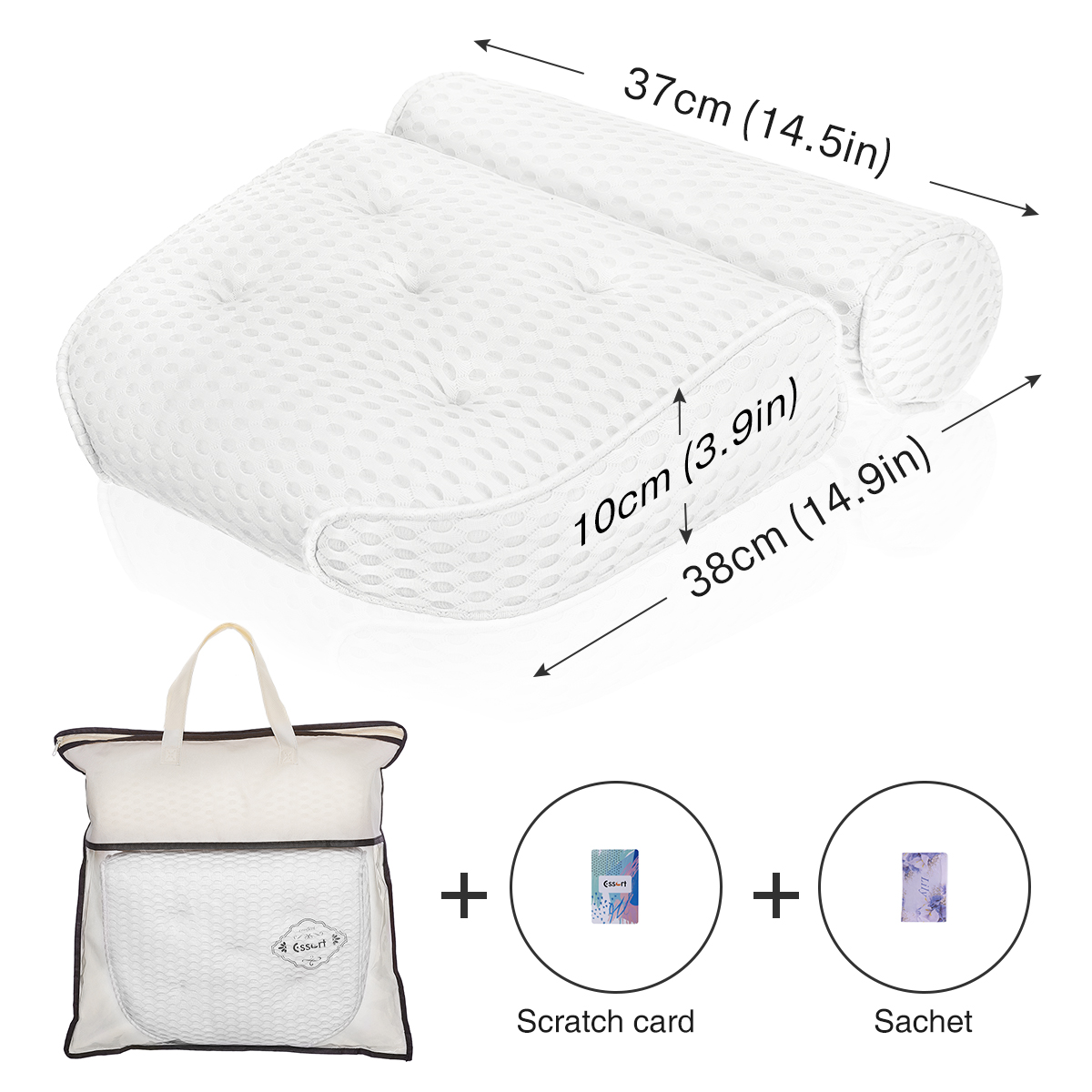 Great Gift Idea - Practical and comfortable, this bath pillow is also a thoughtful gift for friends and family,  perfect for the housewarming, wedding, birthday, Christmas and other celebrations.

* 4D mesh technology
* New design & improved surface
* Breathable and comfortable
* No unpleasant odors, mold and algae
* Fast drying and easy cleaning
* 5 strong suction cups

Package Included:
1 x Upgraded 4D Technique Bath Pillow